Drug development is defined in many pharmaceutical companies as the process of taking a new chemical lead through the stages necessary to allow it to be tested in human clinical trials, although a broader definition would encompass the entire process of drug discovery and clinical testing of novel drug candidates (Wikipedia, Free Encyclopedia). The process of developping a new medicine is given below: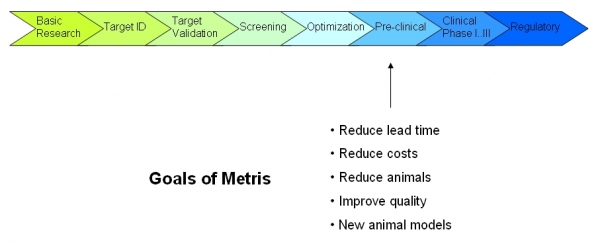 One of the parts in the process is the preclinical development. An important part of the tests performed in the pre-clinical phase involve tests on animals (in-vivo). These tests are mainly done with mice and rats, using special animal models that represent a disease or injury in an animal comparable to a human condition. Animal models of disease can be spontaneous (naturally occurring in animals), or be induced by physical, chemical or biological means.

Our products LABORAS, SONOTRACK, SmartChamber and Sleepsign can be used in several pre-clinical research areas, such as Neuroscience (CNS), Cardiovascular, Dermatology, etc.

To find out how our products can be used in your research, select the applicable pre-clinical research area and disease area. In the tables we have indicated the symptoms and indications per disease area and the related animal model behaviors.