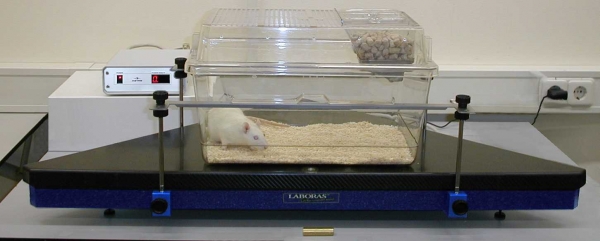 LABORAS is an innovative non-invasive measurement system that recognizes several behaviours of small rodents (mice and rats) fully automatically. LABORAS was the first system and is still the only system on the market which is able to reliably recognize a large number of different behaviours without traditional human observation. LABORAS recognizes a wide range of normal behaviors (climbing, drinking, eating, grooming, immobility, locomotion and rearing), as well as special behaviors such as scratching, WDS, Head shakes, Hindlimb licking, Startle and Freezing.
In addition the system determines the following tracking parameters: XY-position, speed, maximum speed, average spee, traveled distance and position distribution. At the end of 2006, LABORAS release 2 was launched with an improved user interface and faster processing capability.

Examples of application areas: Drug Development, Ethology, (Safety) Pharmacology, Dermatology, CNS and Toxicology.



Play the LABORAS promotion video now